4 targets
119,00 €
Targets can be used in so many ways in training that it often makes sense to have several available at the same time.
Buy now as a set and save!
Description
Ground target
It's finally here! The professional training target!
Quick and easy to shrink!
Use rings individually = 4 soil targets in one!
Non-slip and comfortable for the paws!
Long-lasting and robust product!
Easy to care for, as it can be cleaned quickly!
Additional function for setting up a target stick (see discount in the set).
with hole for easier carrying of the target
Convince yourself now of the first professional soil target!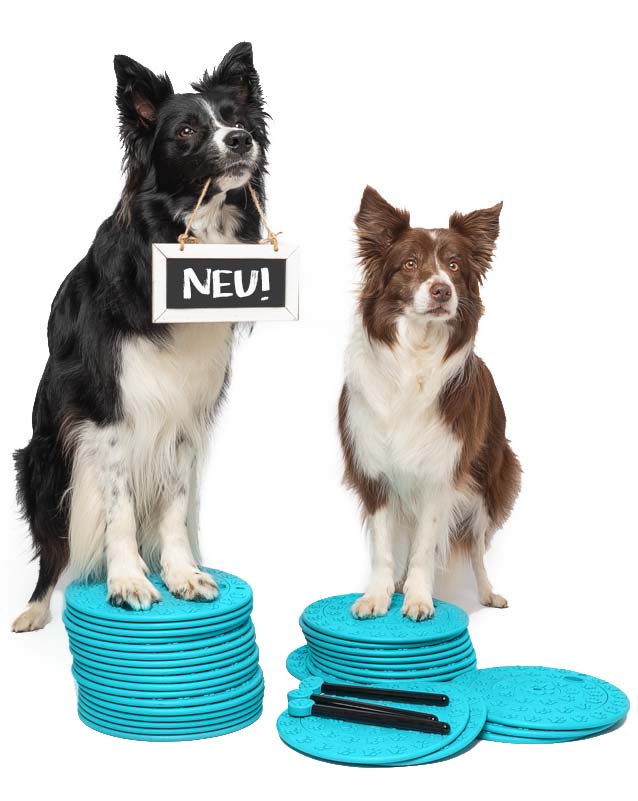 The product developed with great attention to detail by Melanie Felix, professional dog athlete in international freestyle and dog trainer, should make your training easier and simply fun!
The particularly easy-care and pleasant-to-use target adapts perfectly to any surface and, thanks to its own weight, does not blow away even on stormy days. The non-slip and shock-absorbing surface offers health benefits, especially for large and fast dogs. The robust material makes the target insensitive to dog claws, dirt and rough surfaces. Due to its longevity, the target promises you a lot of fun with the new training equipment.
The holes in the middle and in the outer ring can be used to set up the associated target stick.
Another hole in the second ring from the outside serves as a handle or to hang up the target.
The target comes in turquoise and the color can vary slightly from the photos.
Combined with an extra long target stick, this target offers you even more variation options in dog and animal training.
PRODUCT INFO

The soil targets have a total diameter of approx. 27.5 cm and weigh approx. 550 g each.

It can be used in 4 different sizes.

The individual rings are each approx. 4 cm wide and have a diameter of:
Middle = 7 cm
Ring 1 = 14 cm
Ring 2 = 20.5 cm
Ring 3 = 27.5 cm

Robust, easy-care and durable TPE material:
TPE (chemical: thermoplastic elastomers) are free from PVC and latex and are manufactured without the addition of toxic plasticizers. Non-slip and robust like PVC, but more environmentally friendly because 100% recyclable.

Caution! Please never store the floor target folded or rolled. The target is ideally stored horizontally or attached to its grip hole (in ring 2 from the outside).

This set contains 4 of the high quality Melli4Dogs targets.